Hello again members of Heirisson Rotary.
Here is the latest edition of the Happenings for you. Jim Crossland is the new editor and will provide you with the upcoming news and events for our club hopefully with the help of all of you. Please feel free to send me pics and newsworthy articles that you feel your fellow members will be interested in and enjoy to

jimcrossland@iinet.net.au
Guess Who's Coming to Dinner......
was a resounding success with all participants reporting a most enjoyable evening. A very big thank you to our hosts all of whom presented their guests with totally scrumptious meals. The next fabulous event will be very much looked forward to.
Announcements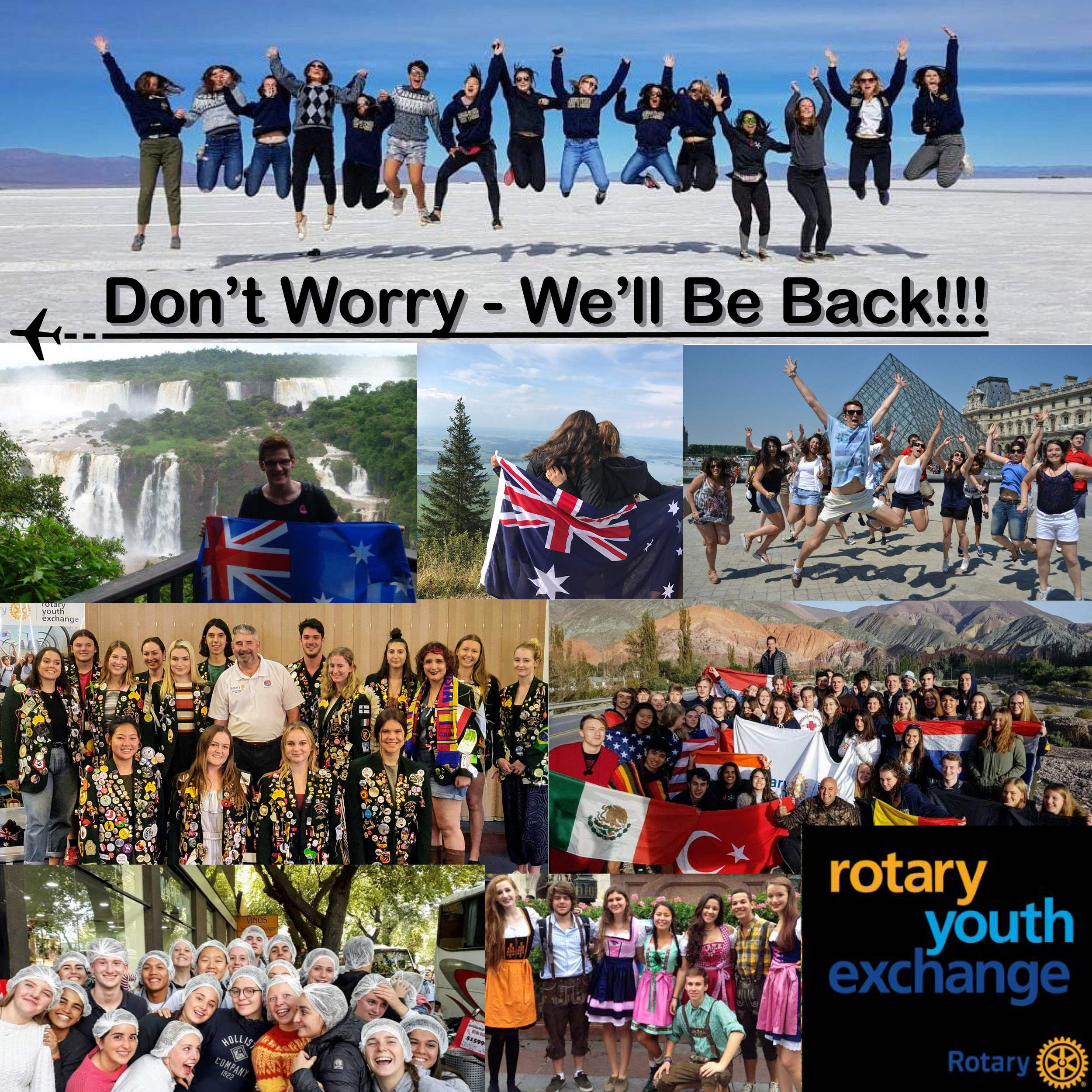 TEMPORARY RE-SUSPENSION OF THE ROTARY YOUTH EXCHANGE PROGRAM
It had been hoped that the Rotary Youth Exchange Program (RYE) could resume in some form in 2021 as previously advertised. Regretfully, with all considerations taken into account, all Rotary Youth Exchange Districts in Australia have had to postpone the Program once again.
The D9455 Committee remain committed to the RYE Program and will continue to work behind the scenes to ensure that when the time is right the Program will be ready to recommence. At this stage, we are hoping to welcome a new group of Inbounds in July 2022, and sending a new group of Outbounds overseas in January 2023.
We are extremely disappointed about this, but the program can not operate safely and effectively while the world is dealing with this crisis. We are particularly sad about the students who will miss out on this fantastic program because they will be too old to apply when the program recommences.
Do not forget about us... we will be recruiting again in 2022, ready to take on the world again!!! Please contact us via this website if you have any questions, and keep following our Facebook and Instagram pages for updates.
Growing as a Rotarian
SHARE YOUR IDEAS
with club leaders to help your club achieve its goals, enhance its projects, and improve the member experience. Your suggestions could become the next big initiative
in your club or community. See Be a Vibrant Club and learn more about club flexibility.
FIND A MENTOR
or mentor another member to share professional expertise, community knowledge, and Rotary information.
ORGANIZE A CLUB EVENT
or service project and gain new skills and experiences like event planning, public speaking, or managing volunteers.
TRY A NEW ROLE

.
Broaden your knowledge and apply your experience and skills in a club leadership role. Take the first step by asking where your club needs help. If you've already been in a club leadership role, try serving in a district role. Ask your district governor and governor-elect where your expertise and talents
BECOME A LEADER IN ACTION.
Participate in your club's leadership development program. If it doesn't have one, talk to your club leaders and help develop one for the members of